Pigs of the Month" at the 27 September, 2023, Tasting:
Tony & Sue
Wines of the 27 September, 2023, Tasting
Wines of the September 2023 Tasting
The Senior Pig Turns 80!
22 September, 2020
We celebrated Tony's 80th birthday in proper Pigs fashion with a tasting followed by cake and gifts of appropriately old wine. Many happy returns, Tony!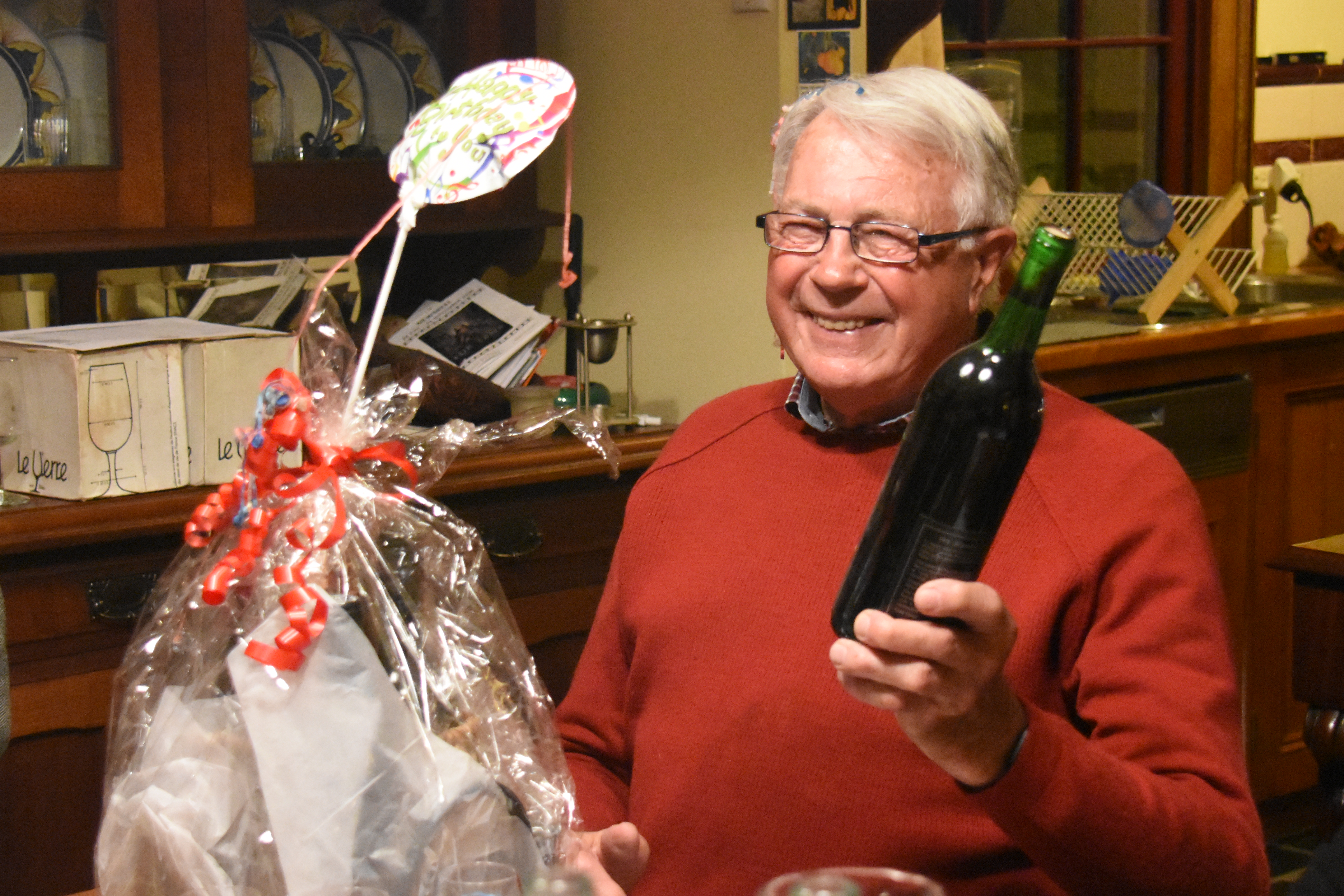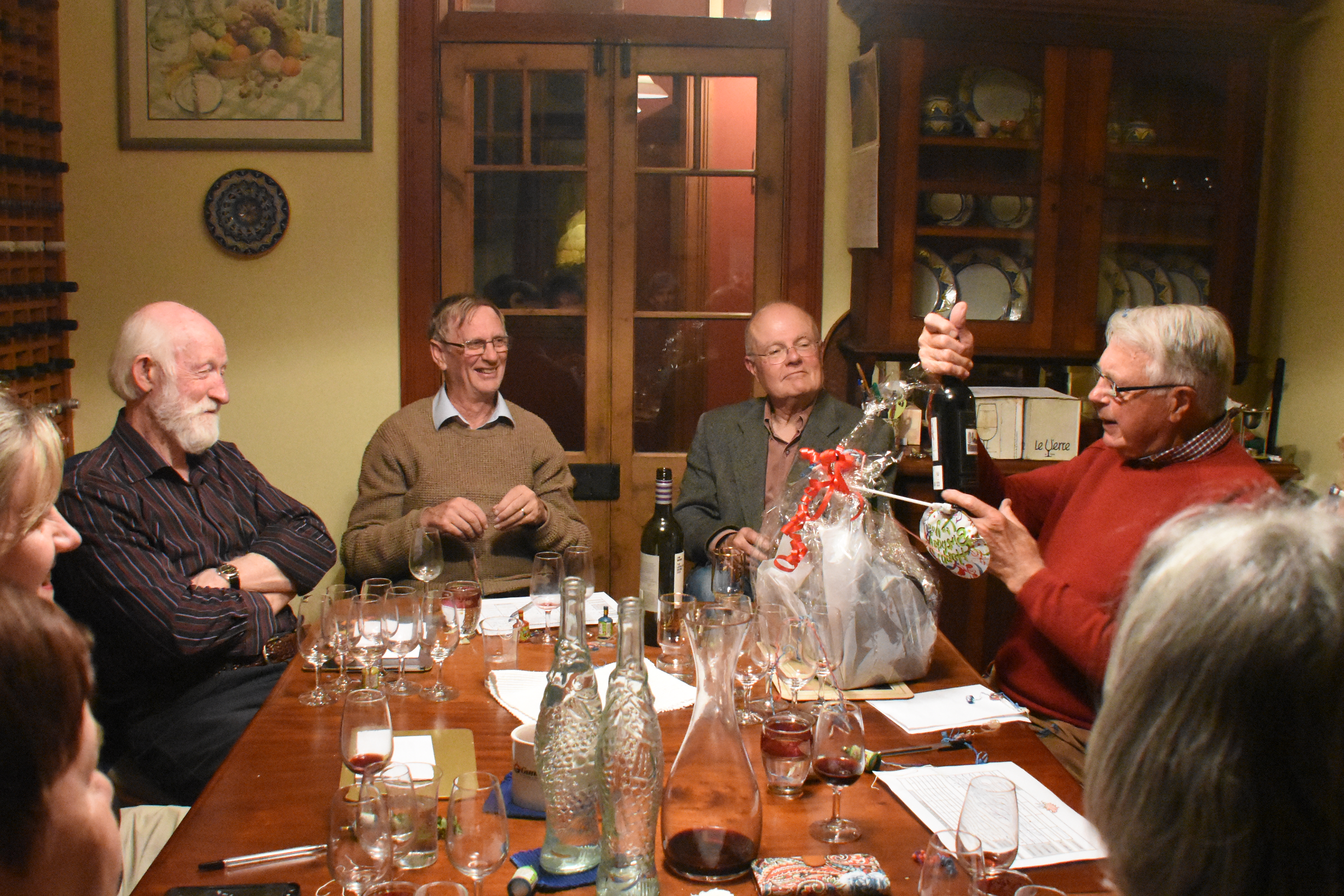 The Inaugural National Pigs Taste-Off
21 July, 2019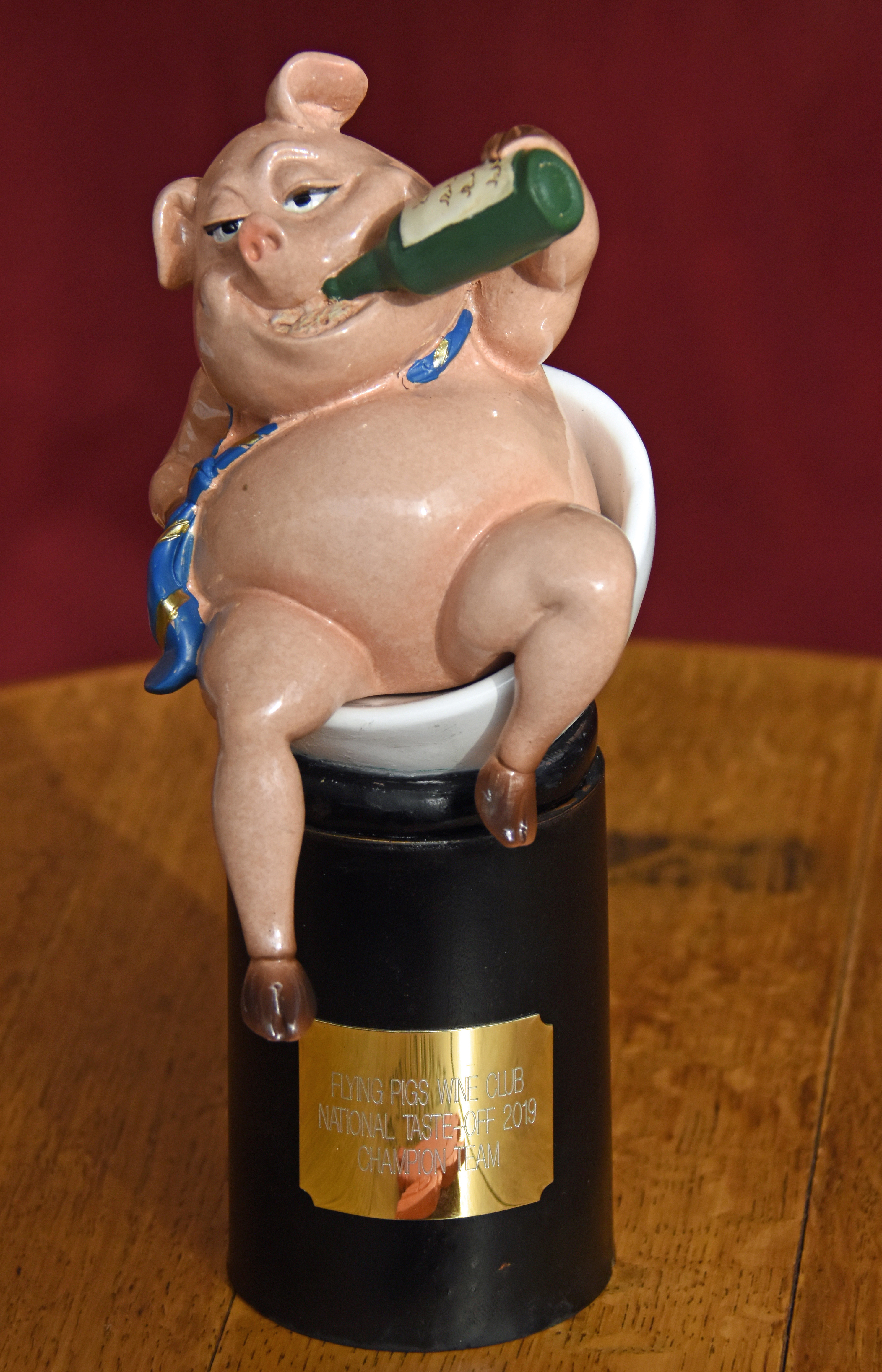 Our Tasteful Perpetual Trophy
Since the beginning of the Flying Pigs, long about 1981, there have been membership changes as people have moved away for career or family. Some took the group concept with them and set up "chapters" in their home towns. This year we finally made our idea for a National Pigs Taste-Off a reality. Four groups gathered in Launceston - the Launceston, Tas, Hobart, Tas, Perth, WA and Bunbury, WA Pigs, to vie for the trophy.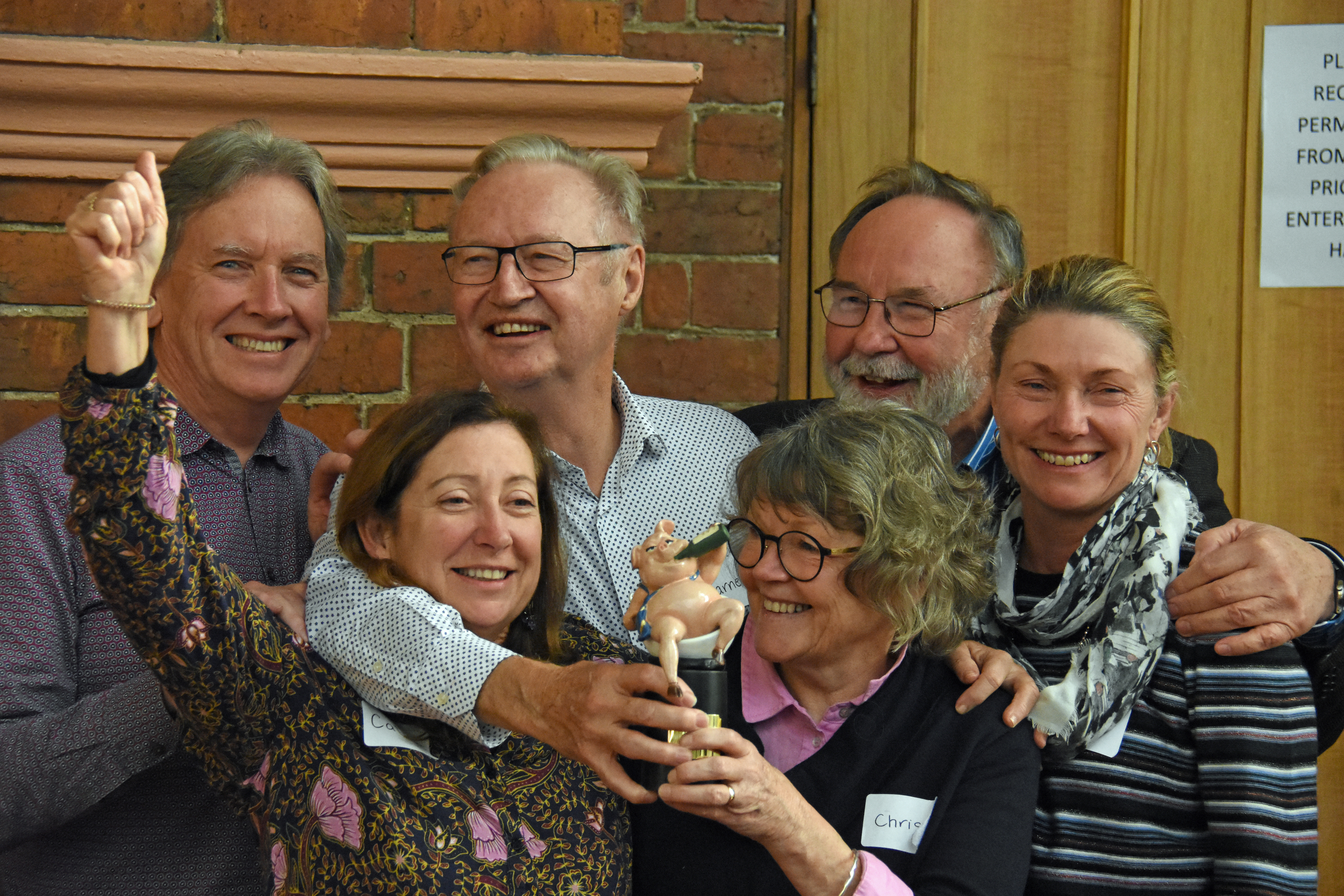 And the Winner Is - Perth!
The clear winner was Perth, with a fantastic group effort.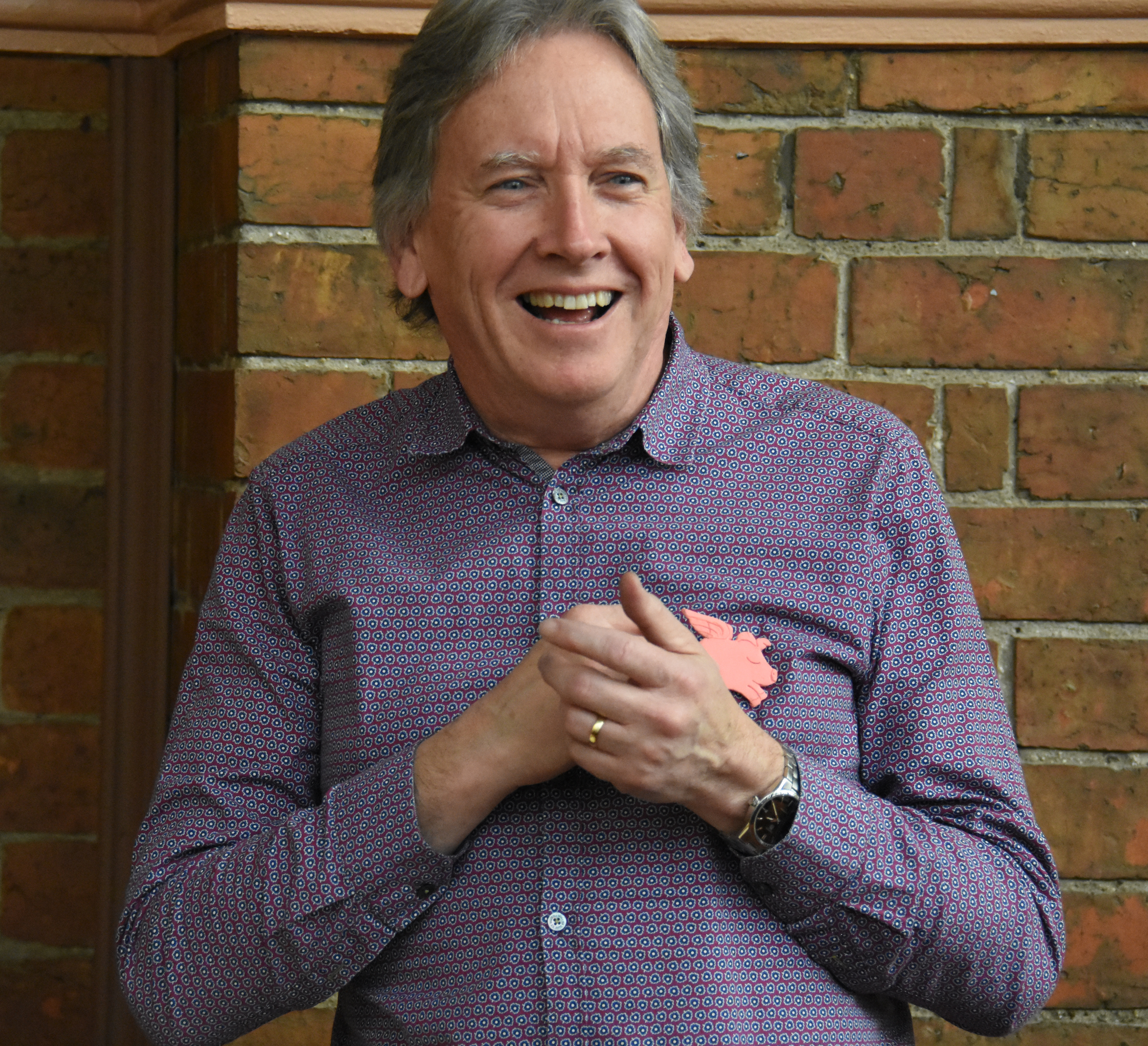 The individual winner for the day was Craig, with an absolutely outstanding 29/30 points. The lucky devil gets to hold the coveted Flying Pig pin until it is next up for grabs.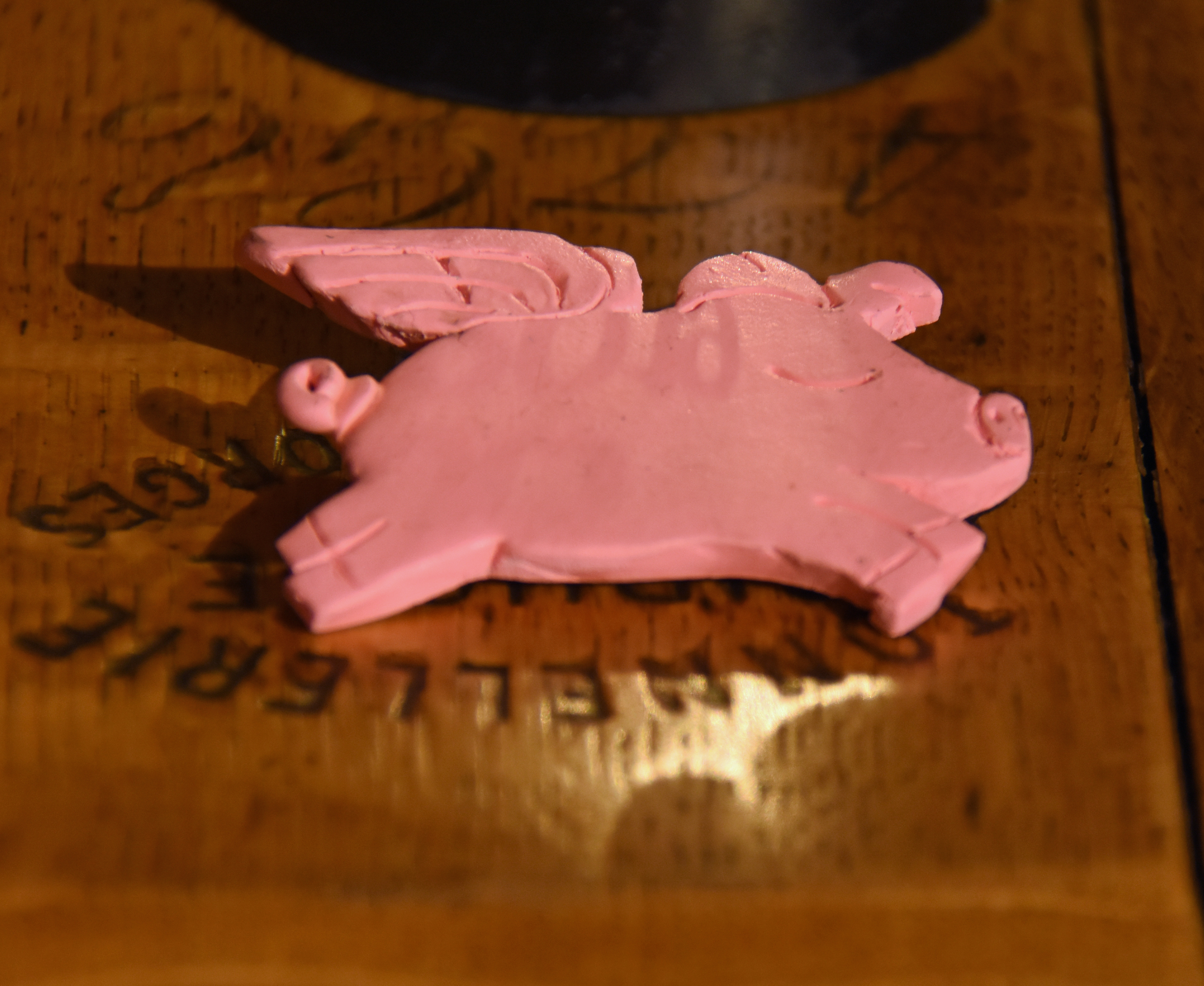 Thanks go to Victoria's Restaurant at City Park, Launceston for a wonderful meal and great hospitality; to Tony for driving the organisation of the event (despite his altercation with the lead while walking the dog), and to David for his careful selection of both the wines and the options. For his tasting notes, click HERE.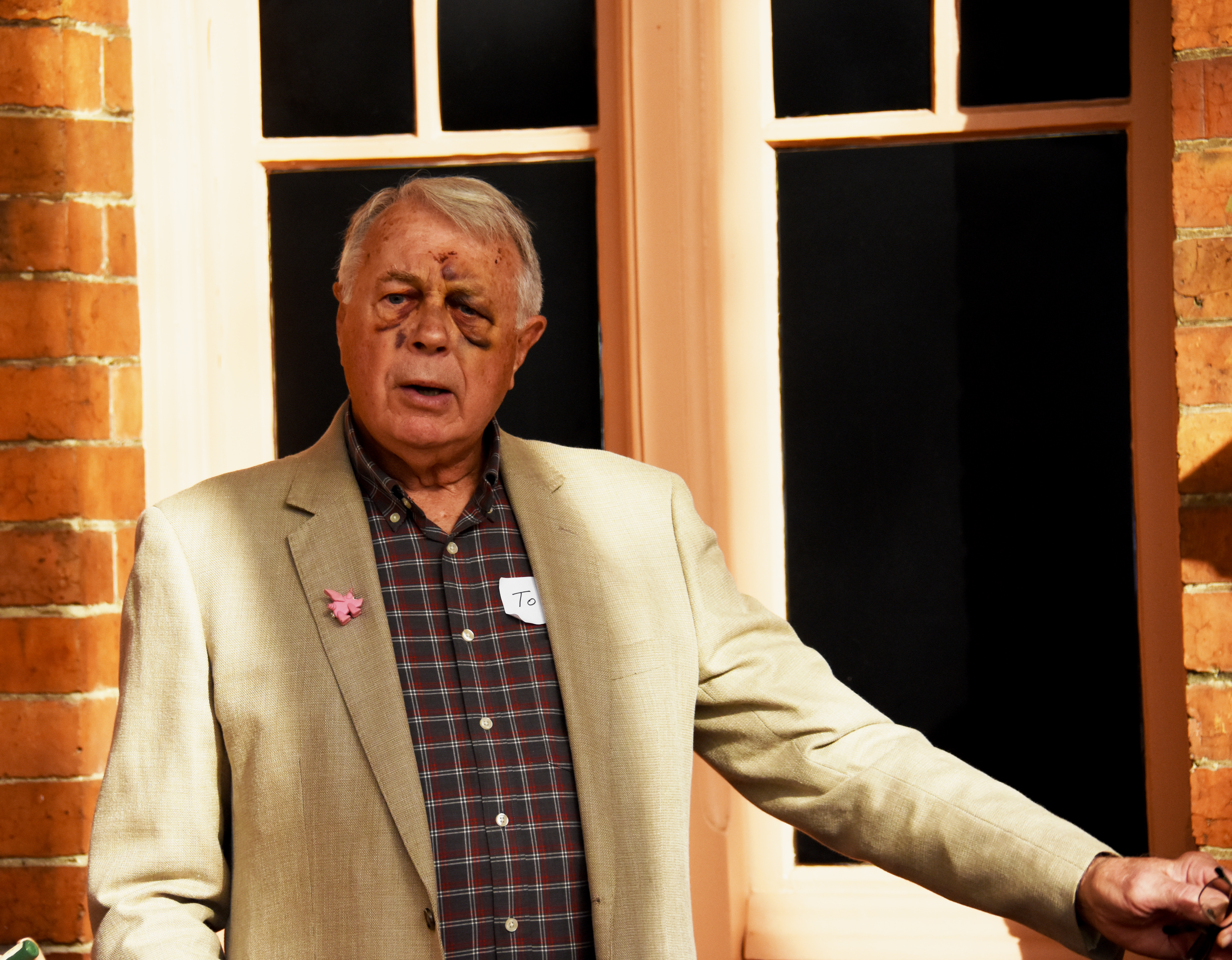 Tony Welcomes the Gathering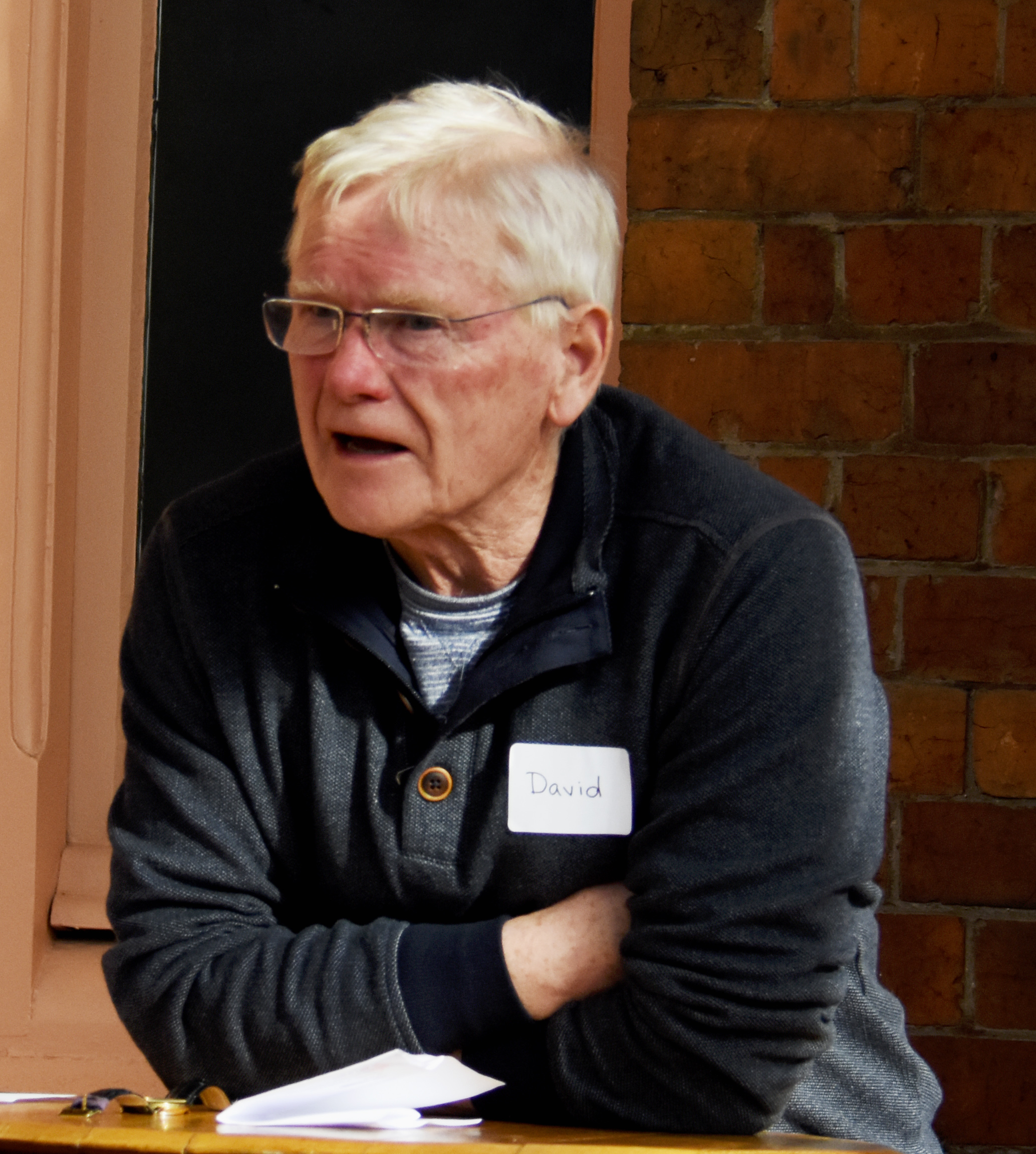 Cellarmaster David
-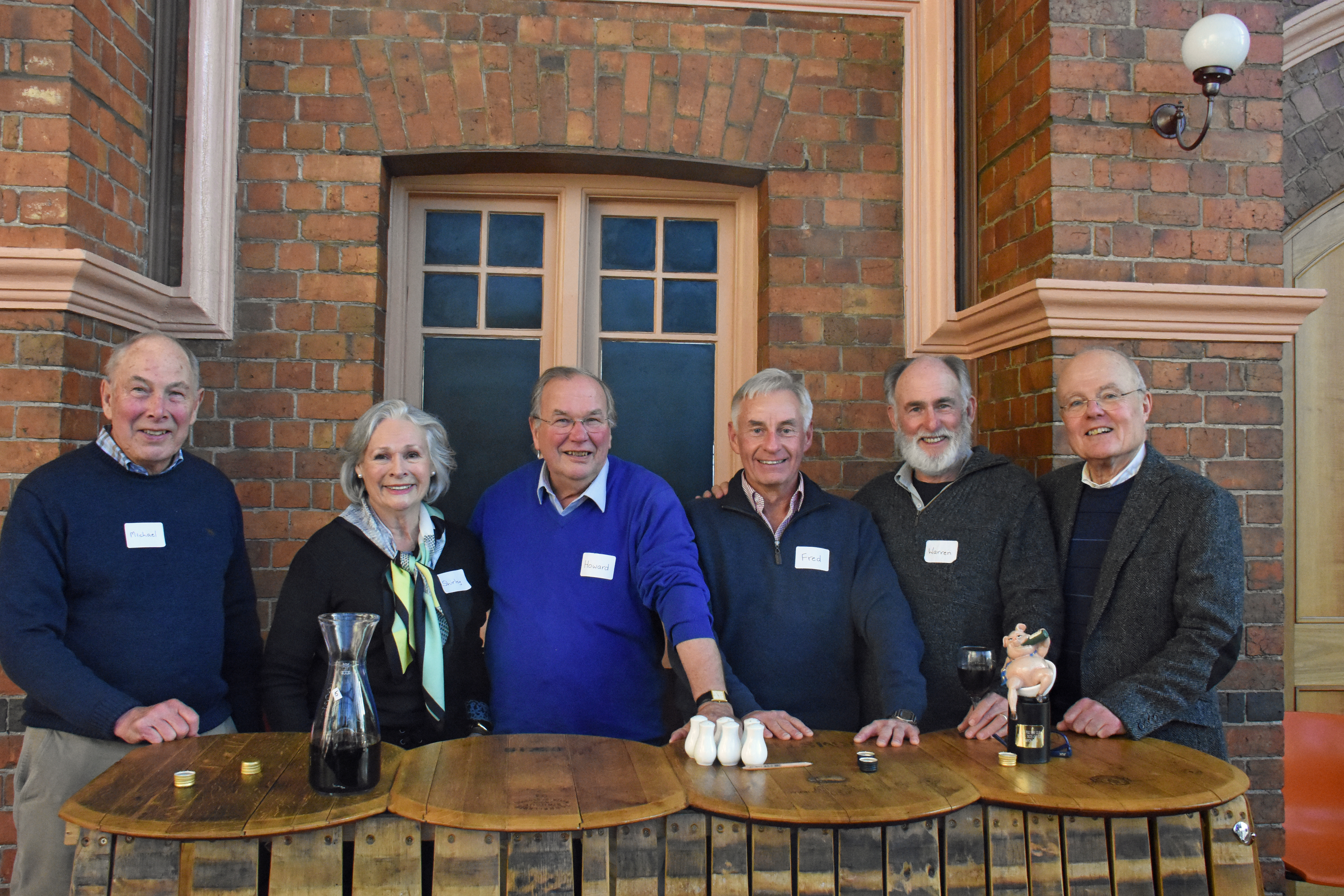 The Original Flying Pigs
The original group of Flying Pigs were all together again for the first time in 38 years. And NEXT year plans are already in the works for a national gathering in Bunbury, WA, to do it all again. We're looking forward to it!
The Annual Pigs' Breakfast
February, 2023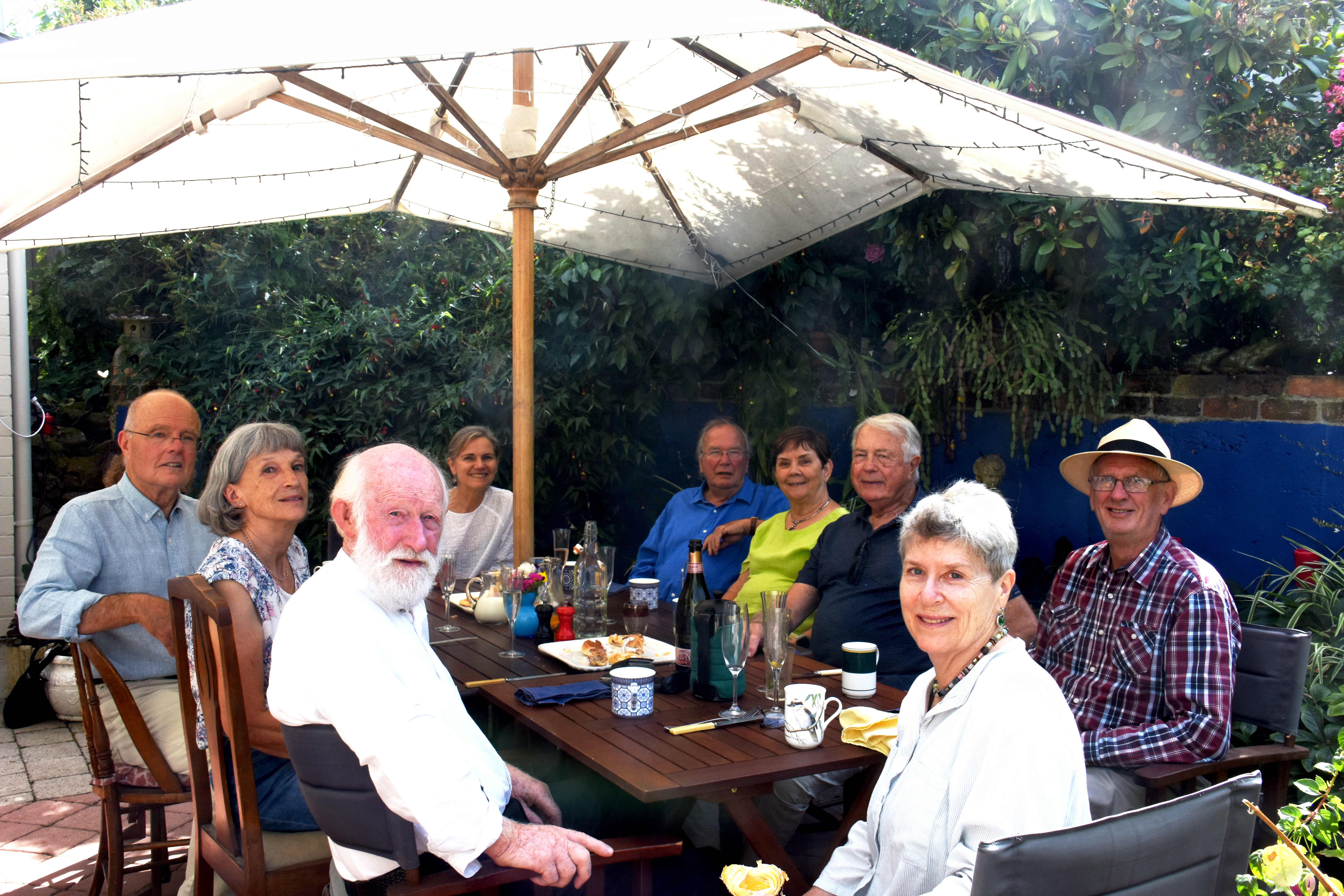 The Pigs Celebrate Shelagh's Birthday
March, 2018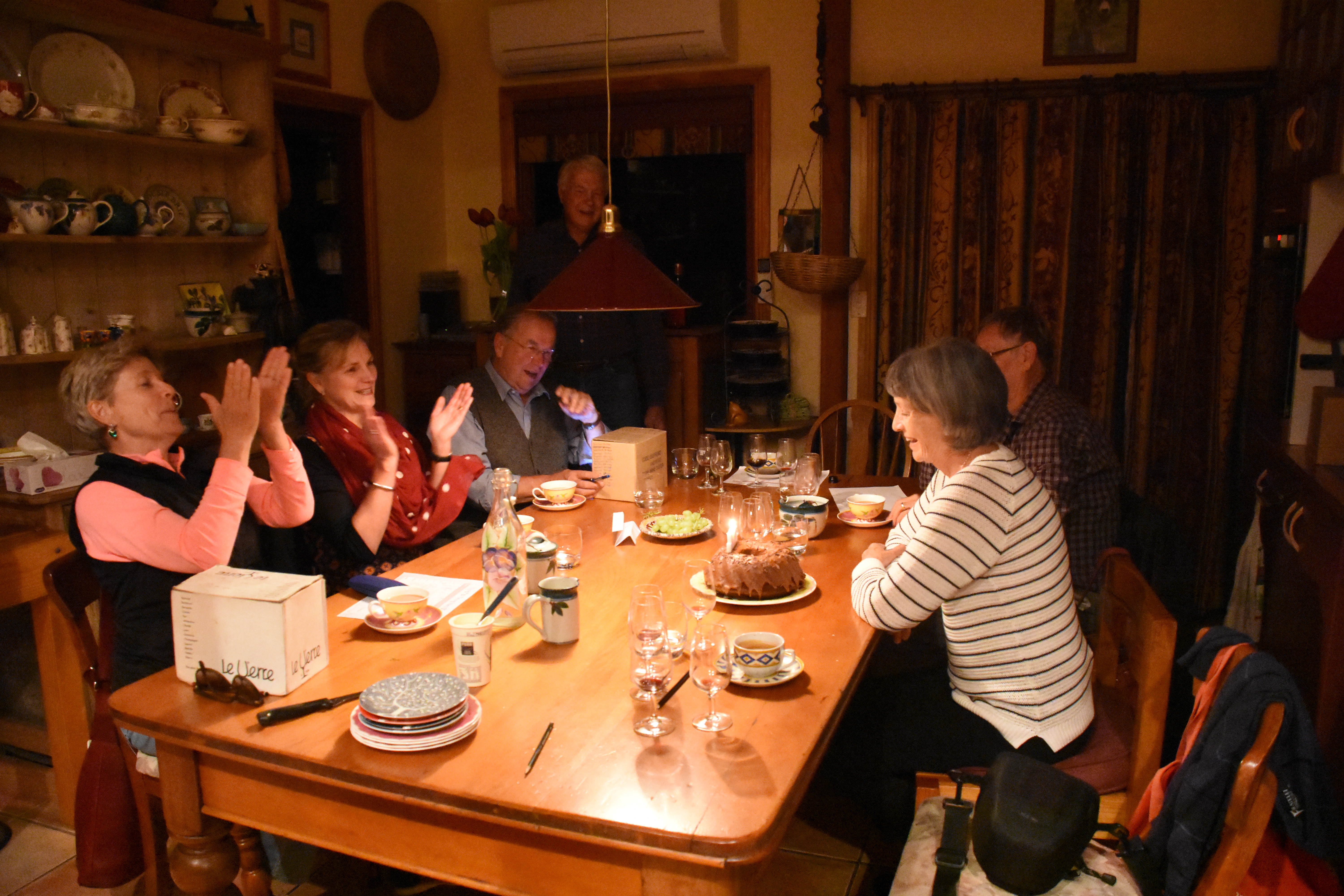 The Pigs Hard at Work
February, 2017
The Pigs February tasting featured some remarkable wines (thanks Howard and Melissa) - the most remarkable of which was probably the 1988 (!) Piper's Brook Chardonnay from Tasmania, which was certainly still alive - although a Penfolds 1993 St Henri Shiraz was pretty good as well!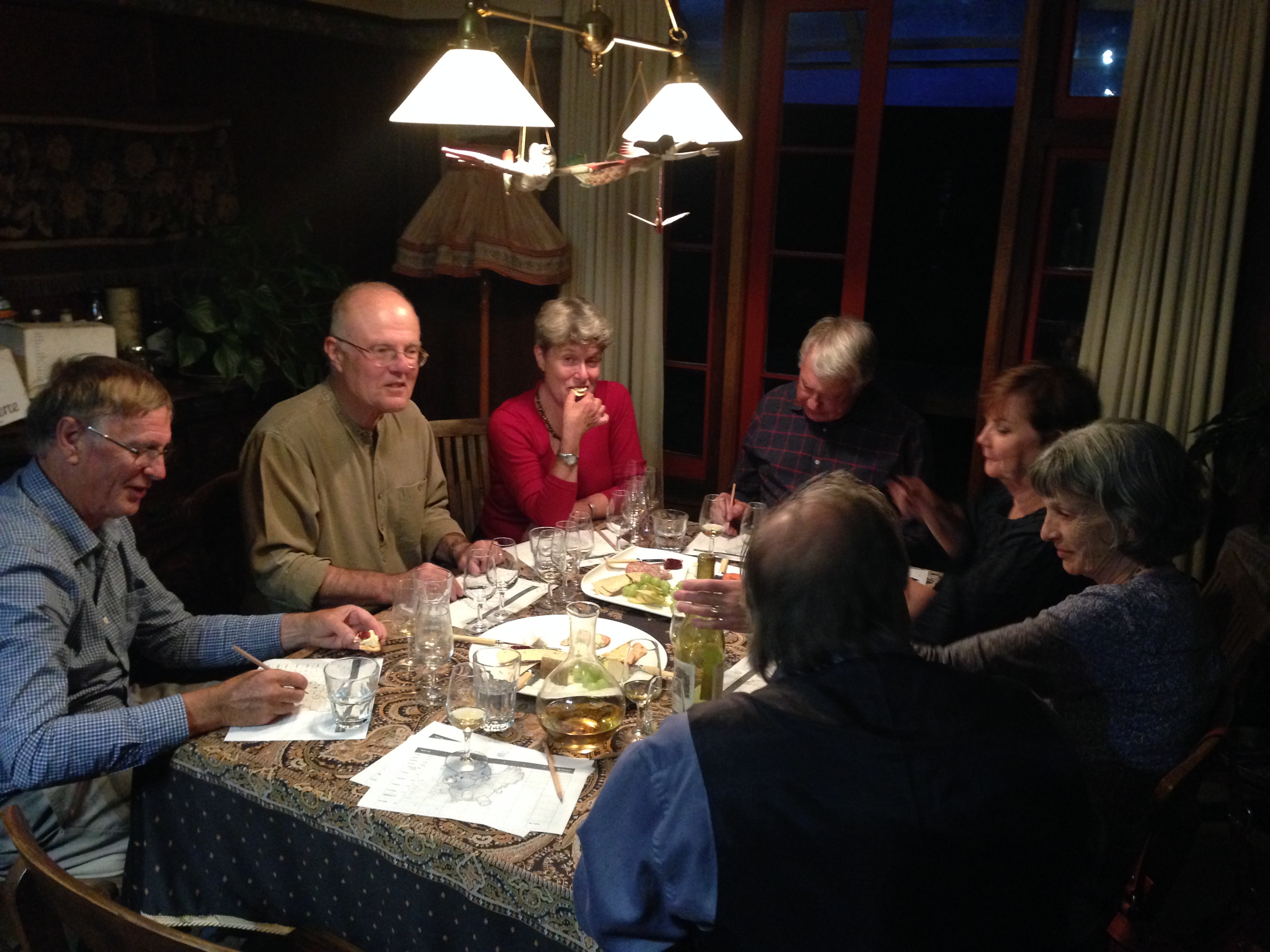 The Pigs at Brook Eden Vineyard
March, 2016
The Pigs had a great tasting visit to Brook Eden Vineyard near Lebrina, Tas. Huge thanks to owners Ed & Annette Ferrero, who laid on a wonderful tasting of cellared chardonnay, pinot gris and pinot noir (we gave gold-medal scores to them) - along with some of their lovely recent-release sparkling. Annette's home-made camembert-style cheese was a great addition.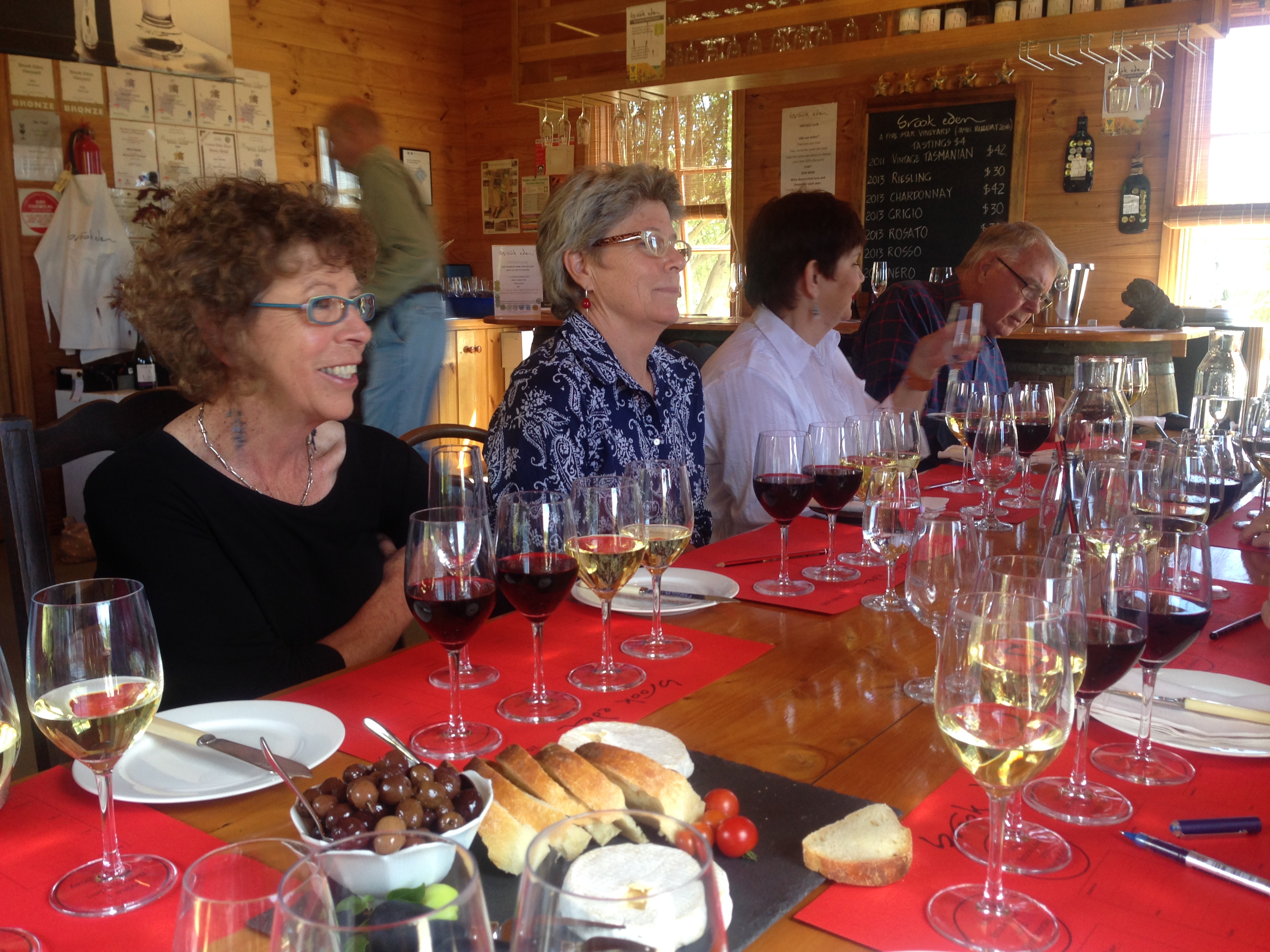 At Brook Eden Vineyard
Congratulations to Flying Pig Tony Walker!!
on winning the Wine Communicators Australia Award
for the best wine book of 2015: Vintage Tasmania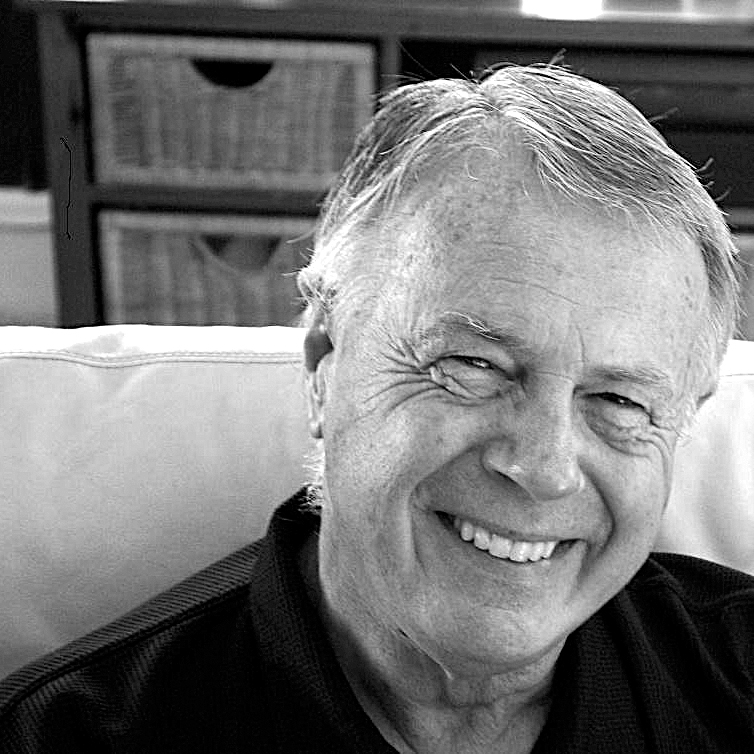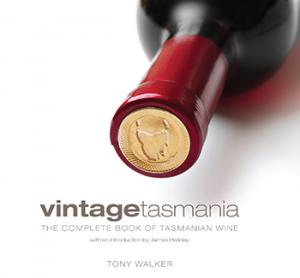 'Vintage Tasmania', a book celebrating Tasmania's rich wine history by Tony Walker, is one of three finalists shortlisted for the national Best Wine Book award. Presented by Wine Communicators Australia, this award recognises a published book (print or digital) which best supports Australian wine with demonstrated depth of knowledge, engaging and professional content targeted to its chosen audience. Vintage Tasmania, a high quality 280-page lavishly illustrated book has been written by Tasmanian wine writer and wine historian Tony Walker, with an introduction by leading wine writer, James Halliday. - See more HERE
The Flying Pigs Oenological Society
Origin and "Rules"
Some time in 1979 or 1980 Howard and Fred, sharing a bottle of wine after squash, were discussing how few wines they would actually sample at that rate. And with that inspiration they decided to form a wine tasting group to help them in their thirst for knowledge. Figuring that "pigs might fly" before they managed to get it all straightened out, they invited three more couple to join them for regular tastings, and the Flying Pigs Oenological Society was born.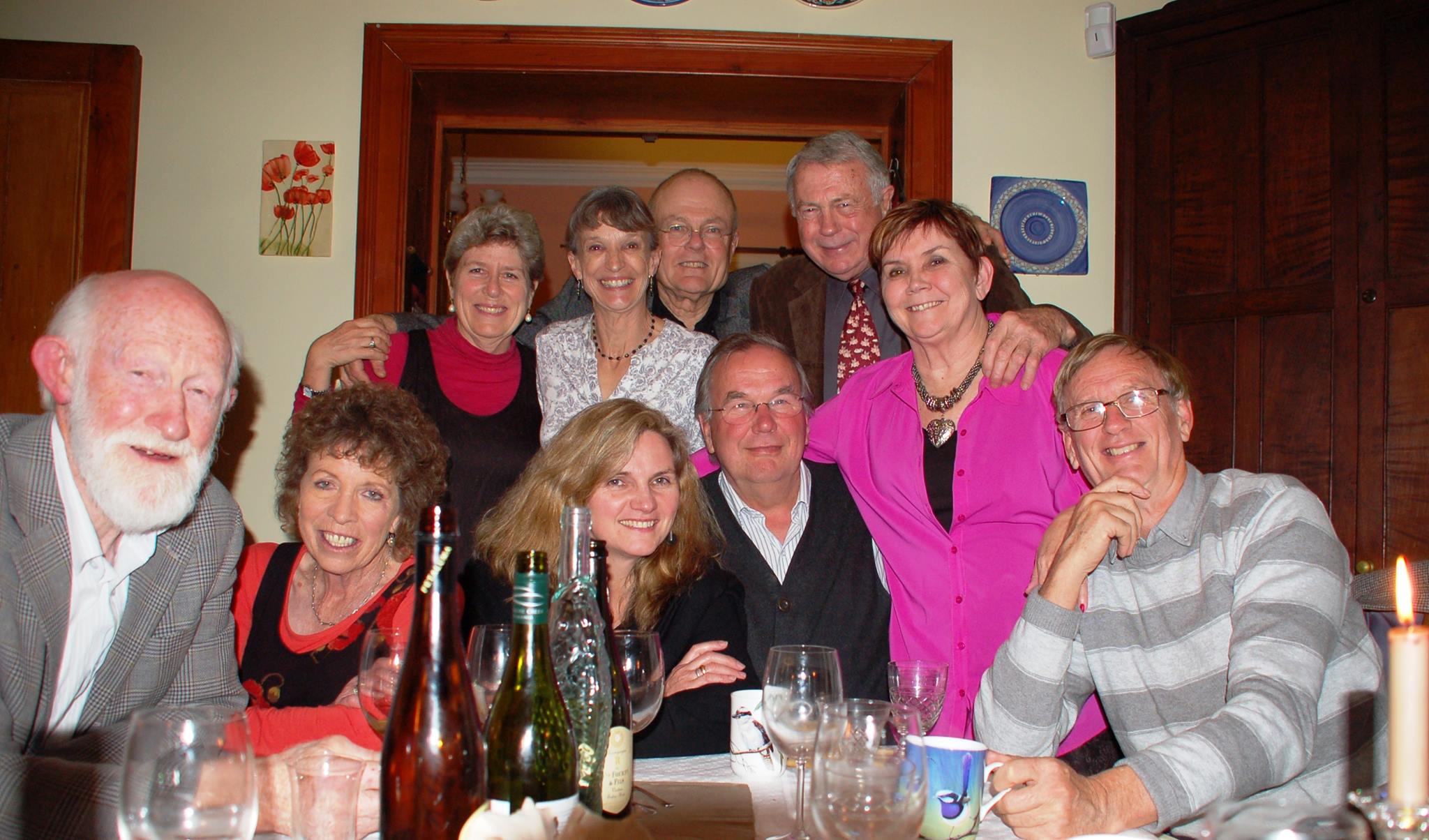 The Flying Pigs
The parameters for the group they set up that day were:
the Group to comprise 5 couples
the Group to meet once a month rotating members' houses
the monthly host to provide 5 wines plus some simple nibbles
wines to be rated out of 20: 3 points for colour, 7 points for nose and 10 points for palate
the tasting to be "blind" but with two options in four categories
the categories to be :

colour (yes, red or white - so no on would get a zero score) - 1 point
grape variety - 2 points
region - 1 point
year - 1 point
a "bonus point" can be gained for a wine if the member names the actual wine correctly (like, for example "Penfolds Kalimna"), PROVIDED that person has got a perfect score (5 out of 5) for that particular wine
In the case of a tied score after 5 wines, there is provision for a sixth-bottle "taste-off" between the tied scorers ONLY (the others are out of the competition).
Over the 34 or 35 years the Flying Pigs has been going (we must learn to keep records one day) the Group has had various members, but Howard and Stan are still among them. For a time the Group expanded to 6 couples (and 6 wines a tasting), but is currently back at the original 5 couples (but we somehow managed to keep the 6 wines per tasting).
Somewhere along the way a "Flying Pig" brooch was made and it has become a hotly-contested trophy for the tasters, with the highest point score for the night (the hosts being excluded from he competition) being deemed Pig of the Month (it sounds better in French) and gaining the right to wear the brooch until it is won by another.
It was further decided that the Group would have two formal "Pigs' Dinners" per year, as close to the summer and winter solstice as practical, and, again, rotating the venues among the members. Each member couple would be responsible for a course - hors d'oeuvres, soup, entrée, main and dessert - with the host couple always doing the main. And each couple would provide two bottles of an appropriate wine for their own course.
Also, there have been occasional Pigs Breakfasts (well, a weekend brunch, really) just for fun and camaderie, plus the VERY occasional Pigs Outing - with the Group travelling overnight to a regional restaurant - having made arrangements to bring our own wine. Four of the five couples even managed to coincide in a rented house in Mirepoix, France for a vacation.
Pigs' Summer Dinner– January, 2021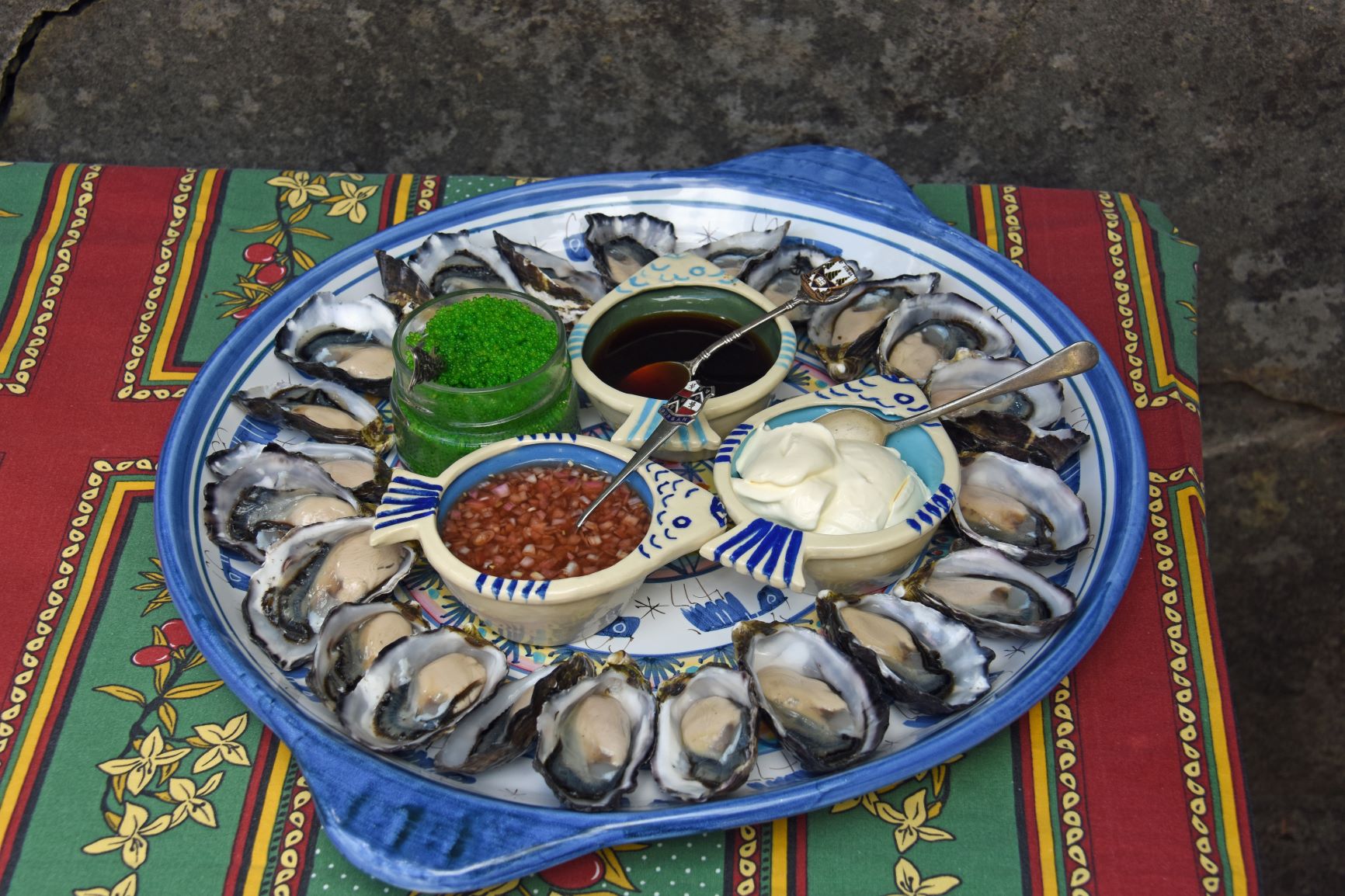 Starters
Gravlax with toast wedges and mustard vinaigrette
Fresh Oysters with ponzu sauce, migionette sauce, and wasabi flying fish roe & crème fraiche
Bream Creek sparkling 2016
Clover Hill NV rosé sparkling
Main Course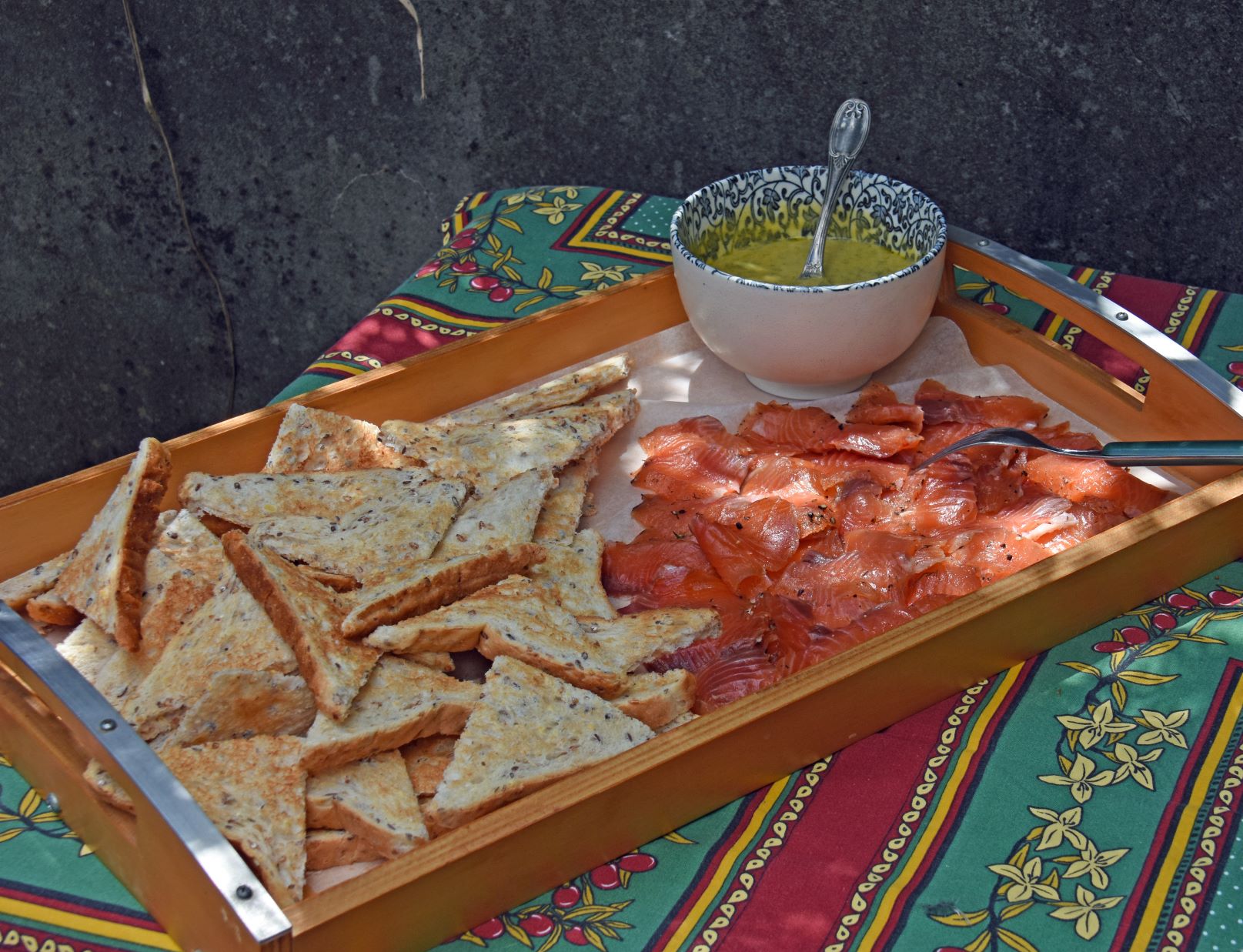 Crumbed prawns and scallops
Chicken salad
Roast garlic potatoes
Tomato tarte
Terrine
Gravlax/hot smoked salmon with dill & cream cheese
Eddystone Point Pinot Gris 2019
Francois Martenot Macon-Villages 2018
Henry Fessy Beaujolais-Villages Veilles Vignes 2019
Dessert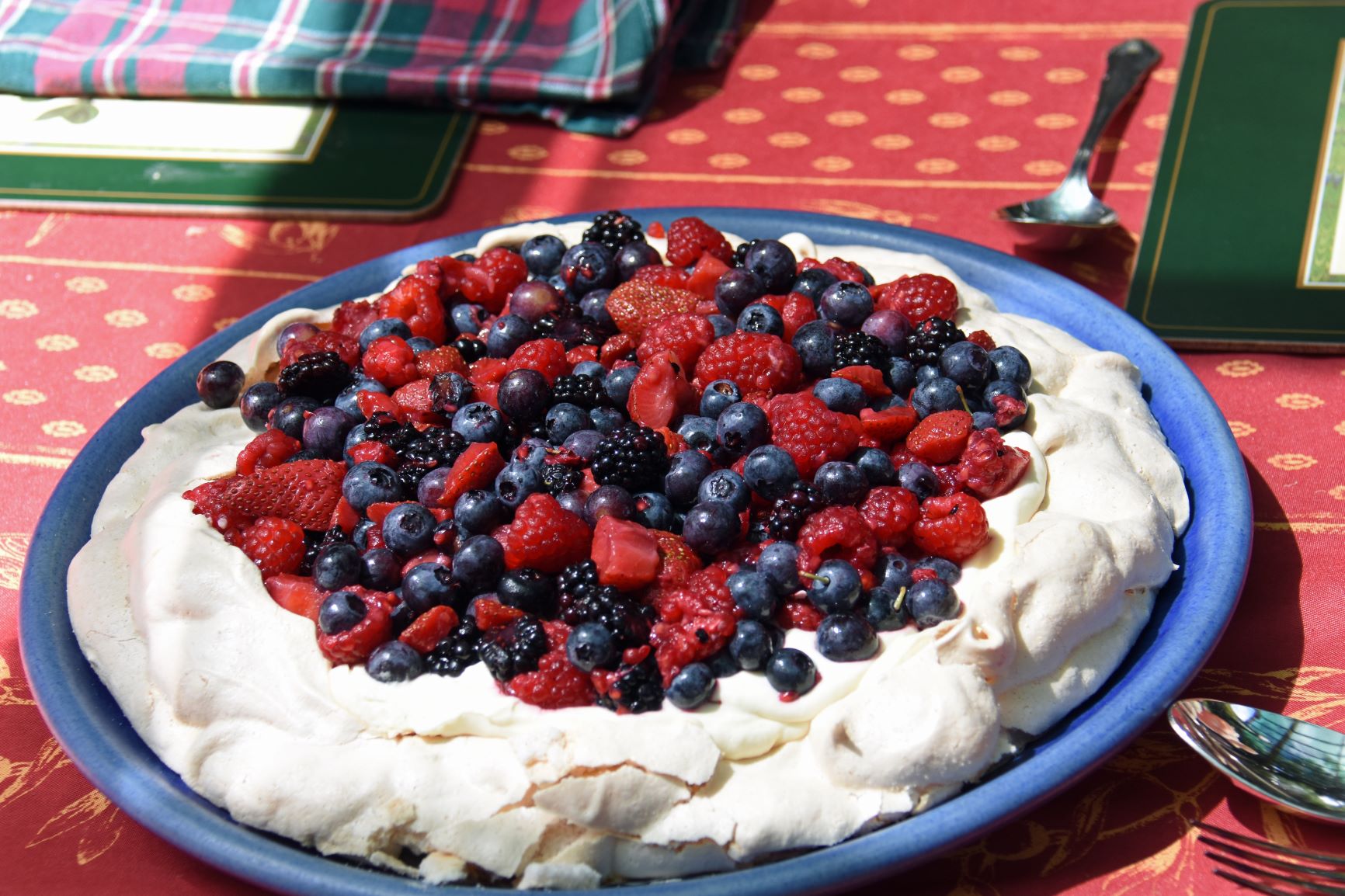 Pavlova with Grand Marnier
Velo 2016 sparkling rosé
The Pigs at Howard & Melissa's Shack - Interlaken
March, 2016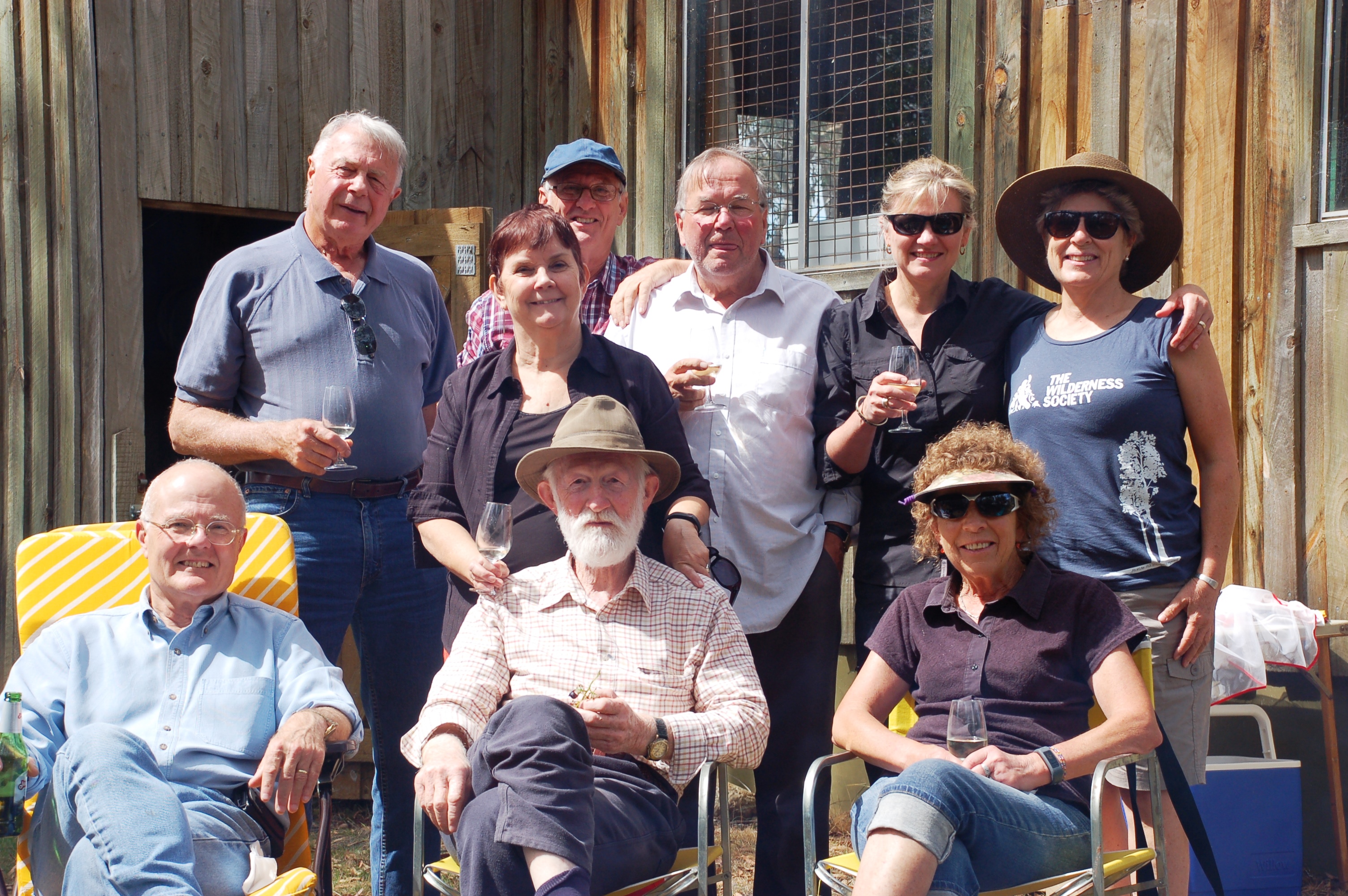 At Interlaken